In almost every industry you have the benefit of condition monitoring to predict maintenance for less down time and more efficiency production. Our sensors and solution can be integrated into any system. For more information, chose your industry below.
Structural monitoring
During the decades following year 2000, structures build has been higher, wider, thinner, or longer than ever before, and have been facing ever increasing demands. When nature at the same time have been producing weather and circumstances that have not been seen before, structural monitoring is more important than ever.
Railroad monitoring
Modern railroad is a high-tech wonder. Running at speeds up to 300 km/h puts great demands on the material and machines used, but also in urban areas where elevated lines run together with lines below the surface, the demand for smooth and timely trips is high. In Denmark, all trains delayed more than 3 minutes cause a potential fine for the operator, no matter the cause.
Production
All industries rely on the ability to internally move goods from one production stage to another. This can happen in various tempos and various weights. Robots and robot-aided units perform many of the automated tasks and ensure a system with great precision in time and place. But the more automated and autonomous the systems become the more we see the need for monitoring and condition feedback since there is no operator to discover the weaknesses.
Marine
Ship operators have the challenge to ensure maximum performance while keeping costs and maintenance to an absolute minimum. From the first second the ship is placed in the dock, wet or dry, the income of the ship drops to zero. Data collected while operating the ship gives the operator the necessary knowledge to plan and execute service, spare part replacement, and maintenance with the utmost efficiency.
Electrical motors
Electrical motors are the backbone of nearly all internal industrial transportation. That goes for raw materials, subcomponents up to the finish products, from the tiniest parts to ready build cars and trucks. All parts move through different stages in their production life and internal transportation facilitates the move from one stage to another.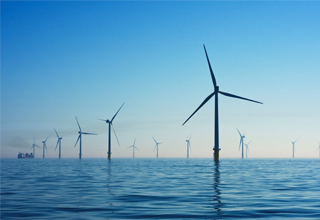 Wind power
Wind turbines consist of many rotating components. One thing they all have in common is the need for continuous monitoring in order to prevent unnecessary bearing and component wear. As wind turbines are often installed in very remote, and hard to reach, locations, the need for a system to predict and counter failures is critical. When planning a service visit, every minute is costly and needs to be optimized.